I'd like to take a moment before we jump in to this week's news to make a shout-out to Jon Oliver, who clearly must have seen my blog and thought it should be made into a weekly Sunday evening news show, that is equally brilliant, comedic and enlightening as my own blog. Too bad I don't get HBO to see Last Week Tonight. It's a shame he won't be able to reach as many viewers as I am to reach readers, but keep shooting for the stars, Jon! You'll make it big one day. He's been on fire the last few weeks, with such hits as Net Neutrality, the Death Penalty, and most recently, Dr. Oz and Nutritional Supplements.
The Great and Powerful Oz
Speaking of Dr. Oz…boy has he had a bad week. And deservedly so. He recently testified at a senate hearing on consumer protection. He was in the hot seat for promoting various scams and miracle drugs on his show. You mean to tell me that after the last 10 miracle drugs, there are still people out there looking for more? Do these people live under a rock? Because Dr. Oz has been our miracle cure prophet for years.  Haven't you heard? There are hardly any unhealthy or overweight people in the US anymore. Studies have shown that our obesity rates have plummeted since Dr. Oz's show began. Also, that poverty is highly correlated with obesity. Clearly, it's because these people do not have televisions and have not yet heard about Garcinia Cambogia. Anyway, Jon Oliver has helped propagate the bad press Dr. Oz has been receiving.  Enjoy both the hearing and Oliver's brilliant treatment of the story here.

The Pope has a death wish.
Why else would you excommunicate-but-not-really the mafia? Nice message and all, but you think it'll actually do anything?  This guy is too good for his own good. One morning he is going to be waking up next to do a horse lamb's head.

MD Primary Elections 

Maryland (and other states I don't care enough about to cover) held it's primary elections this week, ending a colorful gubernatorial race.  The lieutenant governor (Brown), who was expected to win, won. But it wasn't before getting called out for an initial mess-up in the implementation of MD's healthcare website, of which he was in charge. He also refused to partake in one of the television debates, leaving an empty podium in the middle of the stage.  The attorney general (Gansler) had a little scandal of his own, caught at a kegger, taking pictures, presumably surrounded by underage drinkers. And he did nothing. NOTHING! While these two bickered every chance they could get, Heather Mizeur led a surprisingly strong grassroots campaign using public campaign funding.  There was some hope among her supporters that she would pull a big upset like in Virginia, where Eric Cantor was unexpectedly ousted by a no-name tea partier. A virtual unknown a year ago, Mizeur managed to get 20% of the vote on election day-a sign of just how progressive MD really is.
The $500 million question

Obama is asking for $500 million to train rebels (the good ones, not the bad ones) in Syria. What could possibly go wrong? If you're not familiar with the history of Sunnis and Shiites, this is a good start.
The Supremes
It's that time of year again! SCOTUS unanimously just struck down a Massachusetts law requiring a 35 foot buffer zone between protesters and abortion clinics, citing free speech.  The law had prevented protesters from harassing "counseling" women on their way into the clinic. I agree with this ruling because of the right to free speech in public spaces. However, counseling is a two way street. You need to be willing or at least interested in being counseled. Strangers accosting you about your choices and trying to change your mind is not counseling, it is harassment.  It's also important to note that clinics like Planned Parenthood, provide other very important services besides abortions, though all women going through their doors get harassed as if they were there for an abortion.  For more in-depth coverage on SCOTUS rulings, check out SCOTUS blog.
Dildos & Guns

A new gun safety ad went viral this week. Basically, if kids fence with dildos, they'll play with just about anything. So lock up your guns.
World Cup

There are some soccer games being played against different countries. Mexico just lost to the Netherlands. I know this because KLM tweeted this: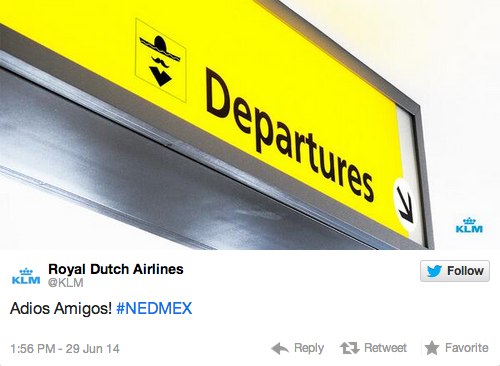 and the internet went up in flames crying "racism!" while I laughed. Come on, it's funny.
If you enjoy getting a rundown of the news and staying informed, I also recommend subscribing to theSkimm.
Any other news you think is worthy of sharing? Post them in the comments!